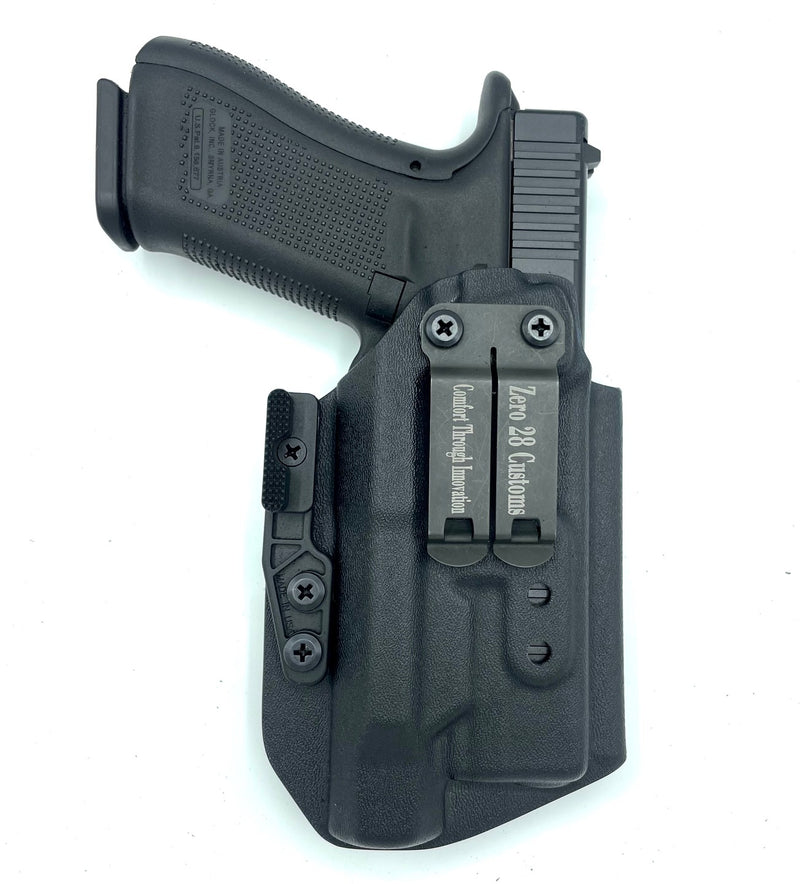 Ultimate Appendix Carry Light Bearing Glock Holster
Ultimate Appendix Carry Light Bearing Glock Holster
Unmatched Comfort and Concealment for Appendix Carry
**Does not fit the new wider frame 40 cal gen 5 pistols.**
When it comes to appendix carry, comfort is not just a luxury; it's a necessity. Our Appendix Carry Light Bearing IWB Kydex Holster for Glock Pistols is meticulously designed to offer unparalleled comfort without sacrificing functionality. Crafted from high-quality Kydex material, this holster is not only durable but also provides a snug fit for your Glock. The light-bearing feature ensures that you can carry your tactical light effortlessly, making it the perfect choice for both everyday carry and high-stress situations. The ergonomic design minimizes bulk, making it easy to conceal under any attire. Experience the ultimate in comfort and accessibility with this state-of-the-art appendix carry holster.
Tactical Efficiency Meets Everyday Practicality in Appendix Carry
In a world where split-second decisions can make all the difference, our appendix carry holster is engineered for tactical efficiency. The light-bearing feature allows for quick and easy access to your flashlight in low-light conditions, giving you the upper hand when you need it most. The adjustable retention system ensures that your Glock stays securely in place while allowing for a smooth and rapid draw. The cant angle can also be customized, offering you multiple carry options. With this holster, you're not just carrying a weapon; you're carrying peace of mind. Whether you're a law enforcement officer or a responsible citizen, this appendix carry holster is designed to meet the demands of real-world situations.
Built to Last: Durability You Can Trust
We understand that your holster is an investment, and that's why we've built this Appendix Carry Light Bearing IWB Kydex Holster to last. Made from premium Kydex material, it is resistant to wear, tear, and environmental conditions. The stainless steel hardware adds an extra layer of durability, ensuring that this holster stands up to the rigors of daily use. The sweat guard protects your firearm from corrosive moisture, extending the lifespan of both your weapon and the holster. When you choose this appendix carry holster, you're choosing a product that you can rely on for years to come.
Why Choose Our Appendix Carry Holster?
With numerous options available in the market, you might wonder why our Appendix Carry Light Bearing IWB Kydex Holster for Glock Pistols should be your go-to choice. The answer is simple: it offers a unique blend of comfort, efficiency, and durability that is hard to find elsewhere. Its versatile design makes it suitable for various Glock models, ensuring that you don't have to go through the hassle of finding a new holster every time you change your firearm. Moreover, its sleek and stylish appearance makes it a perfect addition to your tactical gear. Don't settle for anything less; choose the best for your appendix carry experience.