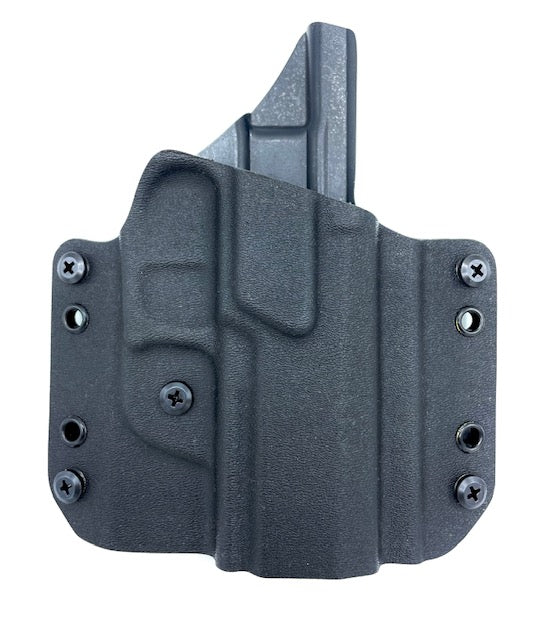 OWB Kydex Pancake Gun Holster For S&W M&P Sig Sauer & Springfield Pistols Audible Click Positive retention 
Conceal your Smith & Wesson, Sig Sauer, or Springfield Pistols without compromising your comfort.
The OWB Kydex Pancake Holster is handmade specifically for Smith & Wesson, Sig Sauer, or Springfield pistols. The understated flat design offers a secure and snug fit for your gun, adds impressive rigidity, and minimizes the chance of printing. Although weighing only a few ounces, the OWB Kydex Pancake Holster is like an armored tank that can handle the roughest weather conditions and is always ready for combat or training. With adjustable retention and double-sided shell design, this Smith & Wesson, Sig Sauer, or Springfield holster allows for an easy draw and one-handed holstering.
The model-specific molded design with its open front accommodates different barrel and sight sizes while minimizing any trigger manipulation. Safe, secure, and stylish, the OWB Kydex Pancake Holster is the perfect way to conceal-carry your Smith & Wesson, Sig Sauer, or Springfield pistol.
● Durable .080 Kydex® designed to hold up to the most extreme conditions and wear that is molded to fit your individual firearm.
● Sleek design adds minimal bulk to your gun without sacrificing secure retention.
● Complete sweat shield keeps your slide clean and sweat-free!
● Double-sided, fully reinforced shell allows one-handed re-holstering and consistent retention.
● Full sight channels accommodate all standard sights, most suppressor sights (up to 10mm tall), and loaded chamber indicators.
● The open front design allows for extended threaded barrels and allows dirt and debris to exit your holster.
● Strong, durable polymer belt clips are available in two sizes - 1.5" for standard belts and 1.75" for larger duty style belts. - If 1.75" are needed specify in the comments at checkout.
● Retention screw allows you to loosen or tighten the retention to your preference.
● Made in the U.S.A