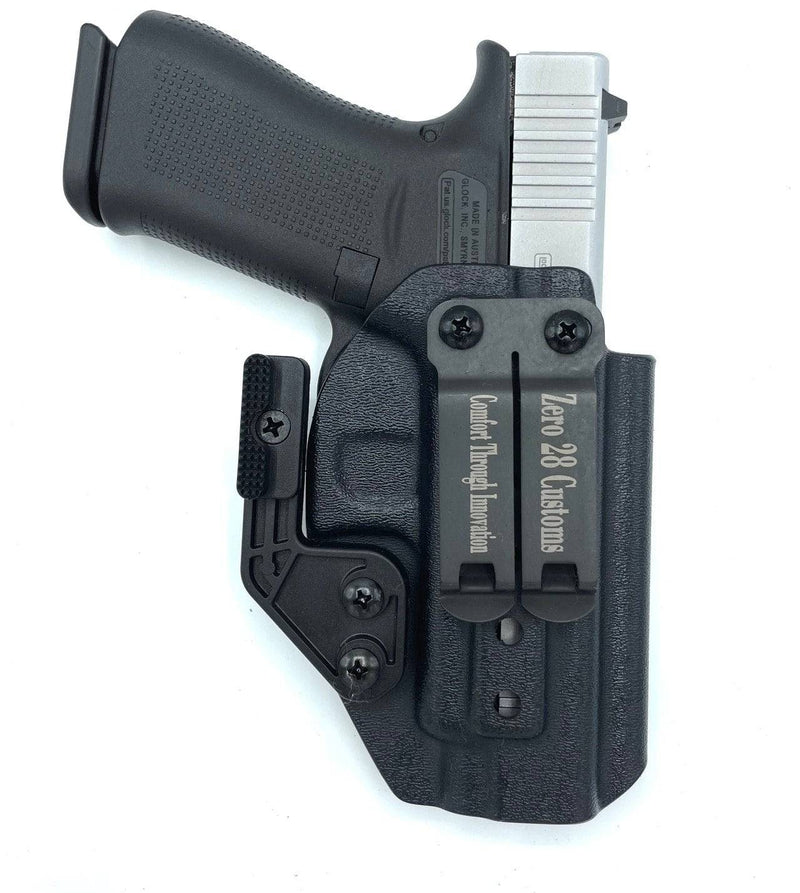 StealthGuard AppendixPro for Glock: The Pinnacle of Kydex Holsters for Appendix Carry & Unbeatable Retention
The Apex of Appendix Carry for Glock Pistols
When it comes to appendix carry for Glock pistols, compromise is not an option. StealthGuard AppendixPro is meticulously engineered to be the ultimate Kydex holster for Glock pistols, designed specifically for appendix carry style. This is more than just a holster; it's a game-changer in the world of concealed carry, offering unparalleled concealability and unbeatable retention.
Why StealthGuard AppendixPro for Glock is Your Ultimate Choice
Tailored for Glock's Appendix Carry: This holster is designed with one purpose in mind—to be the best appendix carry holster for Glock pistols on the market. The placement and angle are optimized for quick access and maximum concealability, ensuring you can carry your Glock with confidence.
Audible Retention Assurance: Our adjustable clamping force technology provides an audible 'click,' signaling that your Glock is securely holstered. This feature eliminates guesswork and gives you peace of mind every time you holster your Glock.
Craftsmanship You Can Trust: Made from industry-standard 0.08" Kydex, the StealthGuard AppendixPro for Glock is built to withstand the rigors of daily use. Its ergonomic design accommodates threaded barrels and suppressor sights, ensuring a comfortable and secure fit for your Glock.
Exclusive Features That Set It Apart
Discreet Carry Concepts (DCC) Metal Clip: Unlike traditional strong side carry holsters that use plastic clips, our StealthGuard AppendixPro for Glock features a DCC metal clip. This upgraded clip offers unparalleled strength and securely attaches to your belt, ensuring your holster stays in place, no matter what.
Modwing 2 Concealment Claw: This innovative feature forces the butt of your Glock to sit flush against your body, significantly reducing printing on your clothing. The Modwing 2 Concealment Claw takes concealability to the next level, making it virtually impossible for anyone to detect you're carrying a Glock.
Unmatched Peace of Mind for Glock Owners
With StealthGuard AppendixPro for Glock, you're making a statement—a statement of uncompromising quality and unparalleled functionality. Experience the peace of mind that comes with knowing your Glock is securely holstered in an appendix carry style, always within arm's reach yet virtually invisible.
Elevate Your Appendix Carry Game with Glock
It's time to experience the next level in appendix carry for Glock pistols. Don't settle for less when it comes to your safety and comfort. Choose StealthGuard AppendixPro for Glock for a concealed carry experience that is second to none. Order yours today and redefine what it means to carry a Glock concealed with confidence.