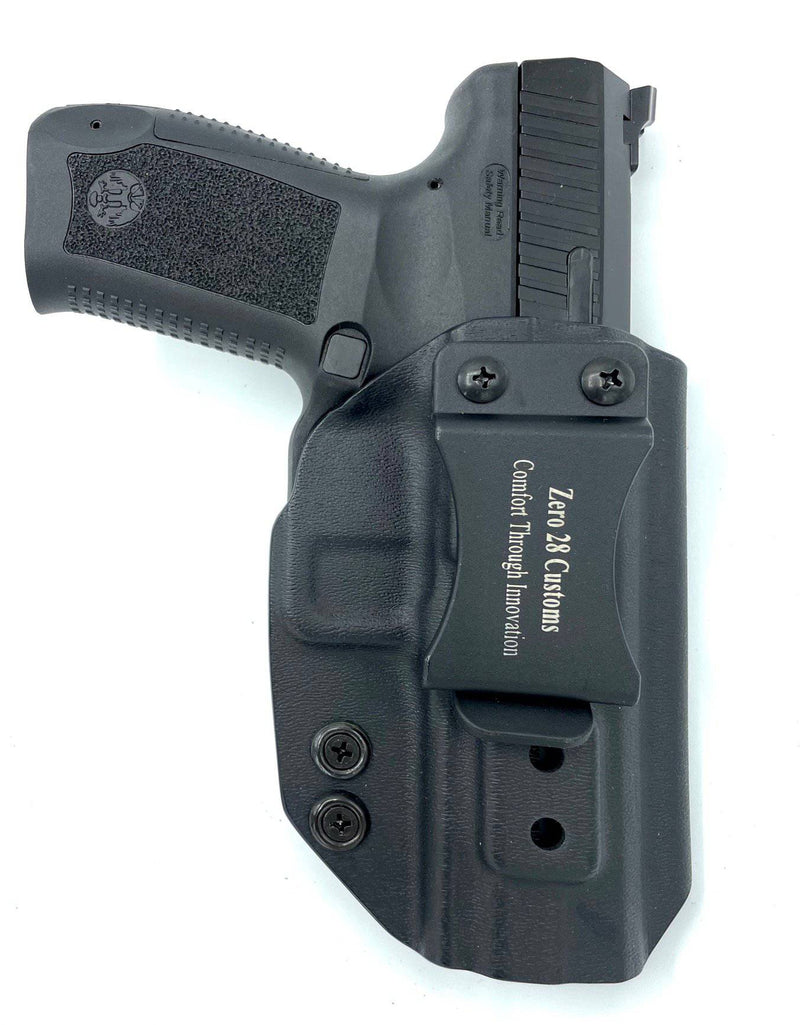 IWB KYDEX Holster For Canik & CZ USA Pistols (Black)
IWB KYDEX Holster For Canik & CZ USA Pistols (Black)
Adjustable Cant - Click Retention
Not having a holster to protect the investment of your firearm and not being able to carry it the way you want? Tired of cheap holsters that wear down your gun? Well, we have got the perfect solution for you!
With a sweat guard, and retention pressure adjuster, our KYDEX holsters are available for a broad range of pistols like the CZ P10  or your favorite Canik TP9 handgun, while providing the ultimate in concealment. Featuring an open bottom design that will accommodate threaded barrels and clear suppressor height sights and an innovative standard Fomi belt clip that will make discreet carry easier than ever, this revolutionary holster will raise the bar for concealment carry. 
Why get yours?
Comfortable fit:

 

Say goodbye to unbalanced holsters and that uncomfortable pinch. This revolutionary product is engineered for comfort and quick draw, making it the ultimate concealed carry option.

Compact and Lightweight:

 

The slim profile of our KYDEX holster will make sure your weapon doesn't feel bulky so you can focus on your daily activities without carrying pain in your pants.
Premium quality:

 

Our holsters are made of hard and rigid .08 thickness Kydex so that your gun can survive a hard day at the range or an adventurous outdoor excursion. Your gun is essential to your safety. Keep it protected.

Claw compatible:

 

With our versatile holster, you

 

no longer have to tuck in your shirt or worry about printing. When paired with our optional Claws (sold separately), they keep your holster tucked away and practically invisible.
Solid, tough, secure -- A kydex holster that is practical and affordable will protect your weapon from sweat and offers a satisfying "click" when you holster your pistol signaling that your weapon is well-holstered and won't fall out without your direction, it will also look stylish with any clothing ensemble.
So what are you waiting for, get yours today!