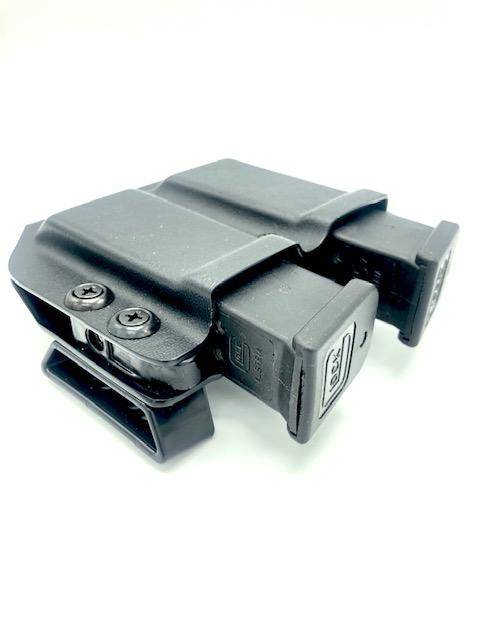 Kydex Double Pistol Magazine Carrier
The MRD Kydex Double pistol Mag Carrier is the future of technology meets simplicity. 
Do you have a lot of different firearms like we do? This Kydex OWB  Double Pistol Magazine Carrier is the answer for someone who needs their mag pouch to fit multiple different guns. 

With our Double Pistol Magazine Carrier, we've combined the latest technology with simple functionality. 

Designed to stash multiple-sized magazines, from M&P Shield, Glock 43's, Springfield XDS to wider single stack magazines, the ruggedness of Kydex material will protect your ammunition from any exterior elements.

Why get yours?
Fit several magazines:

You can never have too many magazines. Available in two different sizes with different widths, this full-size Kydex double magazine carrier boasts a Magazine Retention device that holds two mags for your handgun right where you want them!

Premium quality:

Precision formed from 0.08" Kydex over aluminum molds, these lightweight pistol magazine carriers are designed to exceed performance standards, ensuring exceptional fit, durability, comfort, and finish.

Versatile:

Designed with ease and functionality in mind, this revolutionary magazine carrier can be worn in both OWB and IWB for left and right-handed shooters. 

Easy to use:

Equipped with belt clips,  it is

extremely fast and convenient to put on and take off these unique carriers. 
These magazine carriers comfortably carry two of your favorite magazines for quick retrieval. They protect them from the elements and are strong enough to ensure they will last a lifetime. 

This is the ideal way to carry a spare ammo source with you for an emergency. Don't wait, get yours today!