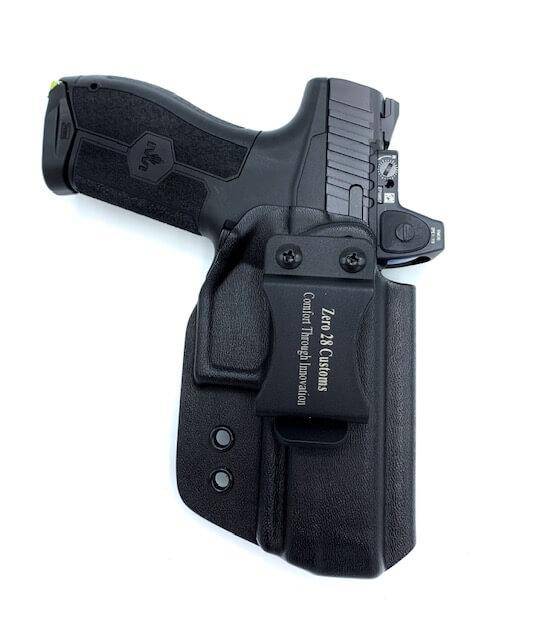 Light Bearing IWB KYDEX Holster (Black) - Inside Waistband - Adjustable Retention
INSIDE THE WAISTBAND KYDEX HOLSTER fits: Pistols with Lights/ lasers (choose make and model) . Our IWB holsters with light and laser are designed to be worn comfortably inside the waistband with an untucked shirt for proper concealed carry. We use .08" KYDEX precision formed over our Aluminum molds. This ensures unparalleled consistency, fit, quality, durability, lightness, comfort, & uniform features across all of our holsters

HOLSTER FEATURES: Undercut Trigger Guard keeps the KYDEX from interfering with your draw. The open bottom design accommodates Threaded Barrels and clears Suppressor Height Sights. Full length Sweat Guard to protect your weapon from sweat. Standard Fomi Belt Clip with the option to upgrade to a more secure metal DCC Clip, so no one knows you are carrying. We utilize all Black Oxide Steel (Phillips) hardware with medium hold Threadlocker, so you can easily make adjustments but never lose a screw.

ADJUSTABLE Positive Retention and adjustable cant: When you holster your favorite Pistols with streamlight olight inforce you hear a satisfying 'CLICK' letting you know your weapon is securely holstered & won't come out unless you want it to. Retention pressure is fully adjustable via the black oxide steel hardware forward of the trigger guard. Cant (or Carry Angle) is adjustable from -5 to +20 Degrees, allowing you to angle the holster perfectly for appendix (AIWB), or strong side.