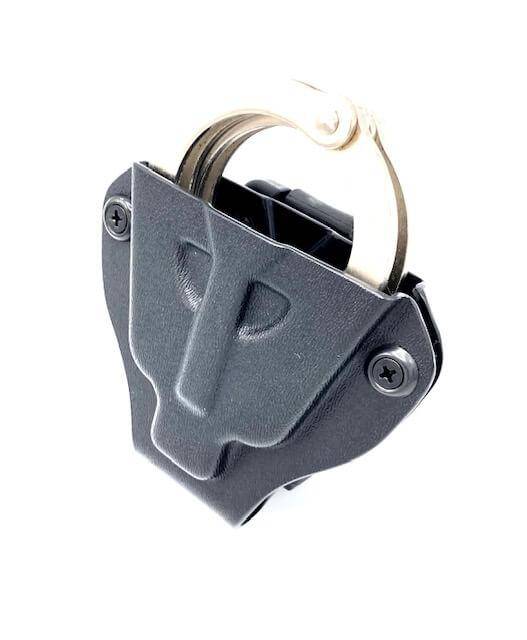 Unlock Unmatched Convenience with Our Premium Kydex Handcuff Carrier
Designed for Duty and Off-Duty Carry
When it comes to carrying handcuffs, you need a carrier that is not just durable but also easily accessible. Our Premium Kydex Handcuff Carrier is meticulously handcrafted in the USA to offer you years of reliable service.
Universal Compatibility
We have holsters designed to fit Smith & Wesson, Peerless, and ASP handcuffs, both chain and hinge models.
Superior Material
Constructed with .08 Kydex or Boltaron, this carrier is built to withstand the rigors of daily use, ensuring that it lasts as long as you do.
Secure and Convenient
Featuring a Combat Loop DCL Clip that accommodates up to 2" belts, this carrier ensures your cuffs are always within arm's reach. Need a larger belt clip? Custom orders are available.
Adjustable Retention
With adjustable retention on both sides, you'll hear an audible click that assures you your cuffs are securely in place.
Premium Hardware
All screws are fortified with blue locktite for added security, ensuring your carrier stays intact even in high-stress situations.
Why Choose Our Premium Kydex Handcuff Carrier?
Handcrafted in the USA
Compatible with multiple handcuff brands
Durable .08 Kydex or Boltaron construction
Adjustable retention with an audible click
Combat Loop DCL Clip for up to 2" belts
Blue locktite on all screws for added security
Order Yours Today for Unmatched Convenience and Reliability!