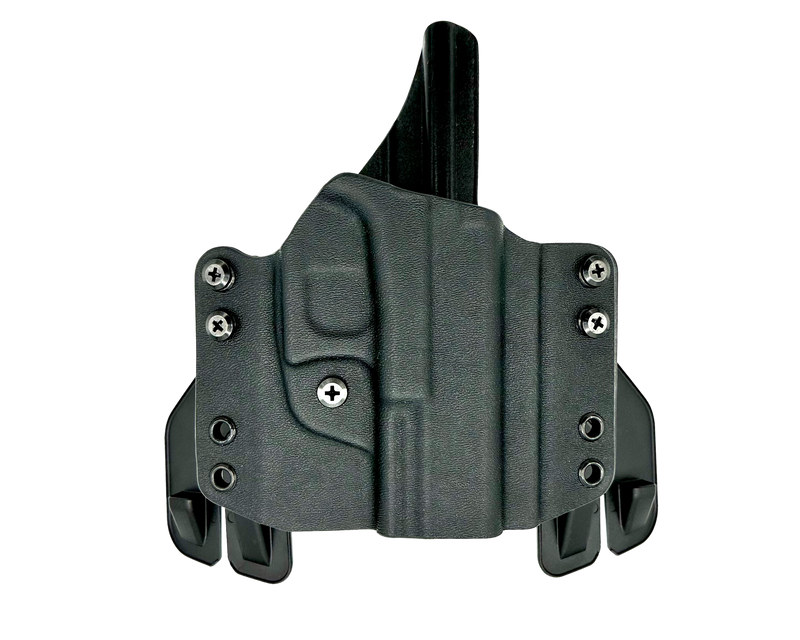 Paddlecake Split Paddle Pro Holster
Unveiling the Paddlecake Split Paddle Pro Holster – the pinnacle of firearm protection combined with unparalleled convenience. Handcrafted with precision in Colchester, Connecticut, this holster seamlessly marries the snug embrace of a pancake holster with the quick accessibility of a paddle holster. It's not merely a holster; it's an evolved carrying experience.
Exquisite Craftsmanship
Artisanally molded with .08 Kydex, the Paddlecake stands as a testament to durability and resilience. While other holsters falter, Paddlecake commits to unwavering security for your Glock pistol. Its distinctive split-style paddle ensures the firearm rests intimately against your body, elevating both concealment and comfort.
Superior Features
Customized Fit: Specifically architected for Glock Pistols, it promises a firm grip, minimizing unnecessary movement.
Adjustable Retention: Empower yourself to dictate your draw's tension, curating a unique experience for every user.
Swift Delivery: Your time is invaluable. With our expedited dispatch, your Paddlecake will be in your grasp promptly.
Why Choose Paddlecake?
Whether you're a dedicated Police Officer, like our legion of gratified patrons, or an individual who places safety atop style, the Paddlecake Split Paddle Pro Holster isn't just a carrying accessory; it's an emblem of tranquility.
Dive into the future of firearm holsters. Bask in the fusion of time-honored craftsmanship and avant-garde design. Opt for the Paddlecake Split Paddle Pro Holster today and transform your Glock carrying narrative. Your assurance is our vow. Step beyond the mundane; embrace excellence!