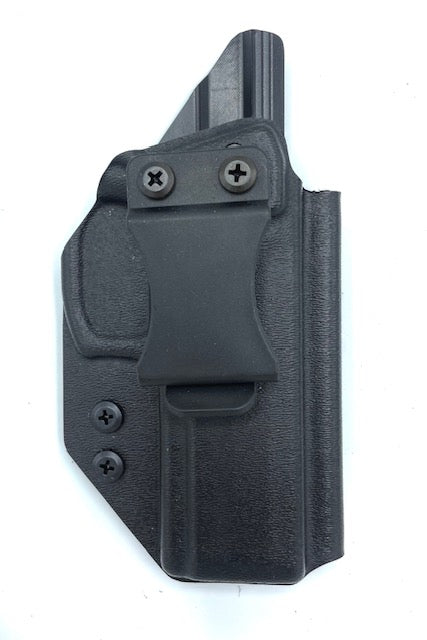 QUICK SHIP IWB GLOCK HOLSTER: THE ULTIMATE QUICK SHIP IWB GLOCK HOLSTER
Elevate Your Concealed Carry Experience
Are you in search of a holster that transcends the ordinary? Look no further than the Zero 28 Customs Quick Ship IWB Glock Holster. This isn't merely a holster; it's a lifelong companion for your concealed carry needs.
This holster is priced at $69.95 USD and has great quality. It also ships within 2-3 days on average. And did we mention it comes with a lifetime guarantee? Yes, you read that right—a lifetime guarantee!
Why Zero 28 Customs is Your Go-To Choice
Unmatched Craftsmanship
Our holsters are the epitome of high-quality craftsmanship. These holsters are built to last, using industry-leading 0.08" Kydex thermoplastics. The Kydex material ensures maximum durability, making it resistant to wear and tear even under the most rigorous conditions.
CNC Precision
We use CNC technology for shaping and trimming our holsters. This ensures a high level of precision and consistency in the end product. We carefully make sure every holster meets our high quality standards, giving you a reliable and durable product.
Adjustable Retention
Our holsters come with a standard adjustable retention feature, allowing you to customize the draw to your liking. This ensures that your Glock remains securely in place while also being easily accessible when you need it the most.
Versatility for Glock Models
We understand that Glock owners have different preferences and needs. That's why we offer a wide range of options compatible with Glock models 17 through 48. Whether you own a Glock 17 or a Glock 48, we've got you covered.
Light Attachments
In addition to the holster's compatibility with various Glock models, we also offer an array of light attachments. Choose from options like the TLR1, TLR 7, and the Surefire X300 to enhance your carrying experience.
Premium Hardware
Our holsters have high-quality attachments and hardware, all secured with thread locker for maximum safety. This ensures that your holster remains intact and functional, even during high-intensity situations.
Smooth Finish
We pay close attention to detail, meticulously buffing all edges to achieve a smooth, finished look and feel. This not only enhances the holster's aesthetic appeal but also ensures comfort during prolonged wear.
Swift Shipping
Why wait when you can have it now? We ship fast. Your holster will ship in 2-3 days on average, and never more than 5 business days.
Lifetime Guarantee
We are so confident in the quality of our holsters that we offer a lifetime guarantee. If you encounter any issues, we've got you covered—forever.
The Final Verdict
Don't settle for less in your concealed carry needs. Choose the Zero 28 Customs Quick Ship IWB Glock Holster and elevate your comfort, quality, and quick access to new heights. Place your order today and experience the difference!
Additional Benefits
When you choose Zero 28 Customs, you're not just getting a holster; you're investing in peace of mind. Our customer service is second to none, always ready to assist you with any queries or concerns.
Furthermore, we design our holsters with the modern gun owner in mind, ensuring sleek designs that maintain full functionality. Experience the perfect blend of style and substance with Zero 28 Customs level of comfort, quality, and quick access. Order yours today!