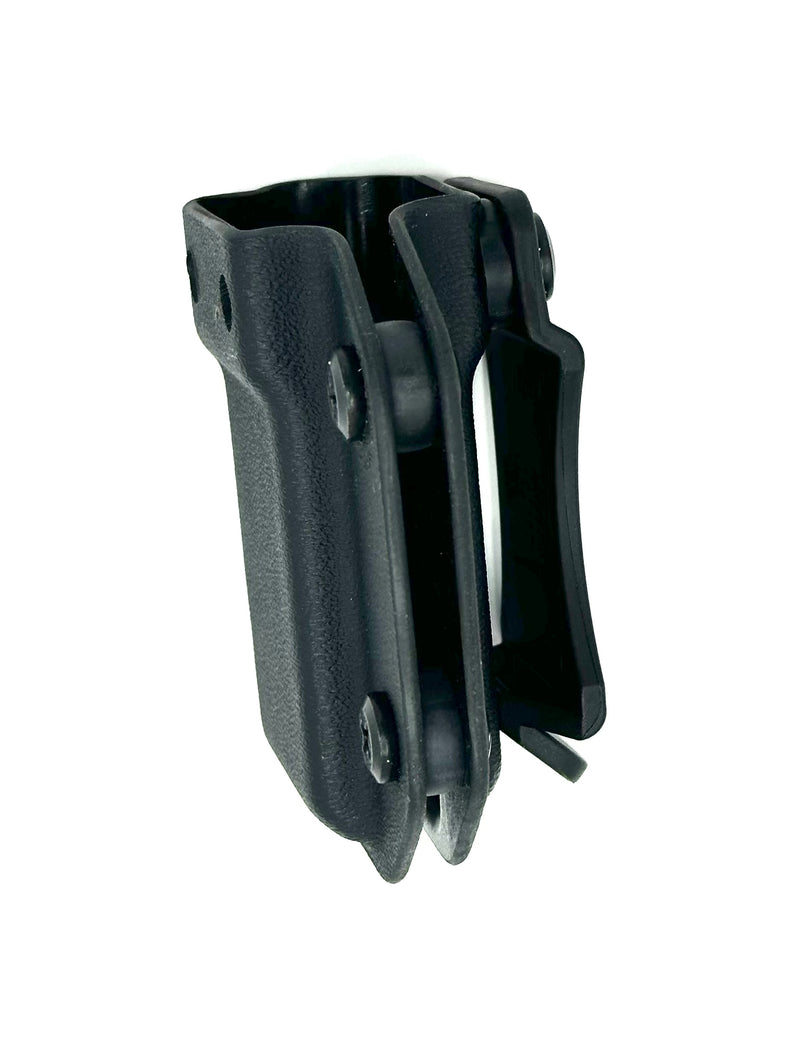 Introducing Zero 28 Customs' Quick Ship Kydex IWB OWB Single Magazine Carrier: The Ultimate Solution for Secure and Convenient Magazine Carry
When it comes to carrying a spare magazine, you shouldn't have to compromise on quality, comfort, or accessibility. Zero 28 Customs brings you the Quick Ship Kydex IWB OWB Single Magazine Carrier, a product that epitomizes reliability and craftsmanship. This top-of-the-line magazine carrier is designed to offer you the flexibility of both Inside the Waistband (IWB) and Outside the Waistband (OWB) carry options. Here's why this magazine carrier is the perfect addition to your everyday carry (EDC) gear.
Unmatched Quality and Durability
Crafted with precision, our magazine carriers are made from .080" thickness Kydex, a material renowned for its durability and resistance to wear and tear. This ensures that your magazine stays secure and protected, even in the most demanding conditions.
Versatility at Its Best
One of the standout features of this magazine carrier is its ambidextrous design. Whether you're left-handed or right-handed, our carrier accommodates your needs, making it one of the most versatile options on the market.
Customizable Fit
We understand that one size doesn't fit all. That's why our magazine carriers are specific to the make and model of your firearm. From Glock to SIG P320 to Beretta, we've got you covered. Additionally, the carrier comes with adjustable retention screws, allowing you to customize the fit according to your preference.
Quick-Ship for Immediate Needs
In today's fast-paced world, waiting is not an option. Our quick-ship feature ensures that you receive your magazine carrier in the shortest time possible, without compromising on quality.
Safety Meets Comfort
Our magazine carriers are not just about functionality; they are designed with your comfort in mind. The sleek design ensures a discreet carry, making it an ideal choice for concealed carry permit holders.
A Brand You Can Trust
Born from a lineage of law enforcement professionals, Zero 28 Customs is more than just a brand; it's a commitment to quality and customer satisfaction. Our products are a testament to our dedication to providing you with the best carrying solutions.
Why Choose Zero 28 Customs?
Exceptional Quality: Our products set the industry standard for secure weapon retention and comfort.
Affordable Excellence: High-quality doesn't have to come with a high price tag.
Customer-Centric: Your satisfaction is our priority, and we go the extra mile to ensure it.
So, why settle for anything less when you can have the best? Elevate your carry experience with Zero 28 Customs' Quick Ship Kydex IWB OWB Single Magazine Carrier. Order yours today for just $39.95 and experience the pinnacle of Kydex holster craftsmanship.