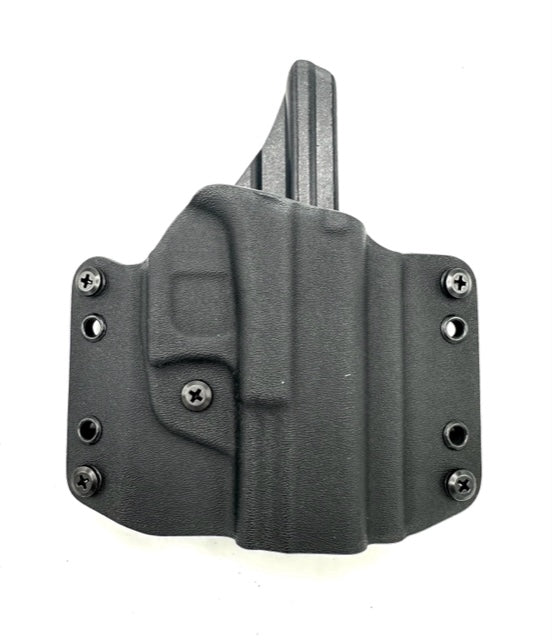 Quick Ship OWB PANCAKE Glock Holster by Zero 28 Customs
Quick Ship OWB PANCAKE Glock Holster by Zero 28 Customs
Step into a realm of unparalleled firearm security with our Quick Ship OWB PANCAKE Glock Holster. Designed specifically for Glock enthusiasts who prioritize both form and function, this Pancake Holster elevates the very definition of firearm accessories.
Ultimate Glock Protection:
Utilizing industry-leading .08" Kydex thermoplastics, this holster delivers unmatched durability, ensuring your Glock stays shielded against any external challenges.
Expedited Shipping For Your Needs:
Because a Glock owner deserves nothing less than swift service. Expect your holster to be dispatched and at your doorstep within 2-3 business days, never exceeding a 5-day wait.
Unwavering Lifetime Guarantee:
When we say quality, we mean it for life. That's why our OWB PANCAKE Glock Holster comes with a lifetime guarantee, a testament to our commitment to craftsmanship.
Key Features That Set Us Apart:
Precision in Every Detail: Employing vacuum-formed technology, we've achieved superior definition in our holster design, making it the ideal match for your Glock.
Consistent Craftsmanship: Leveraging CNC machine shaping, we ensure every Pancake Holster delivers uniform perfection, down to the last detail.
Customizable Retention: Each holster is tailored for adjustable retention, allowing you to dictate the grip on your Glock.
Elite Hardware Attachments: Every holster is fortified with top-grade attachments and thread locker, guaranteeing unwavering security for your Glock.
Smooth, Ergonomic Finish: