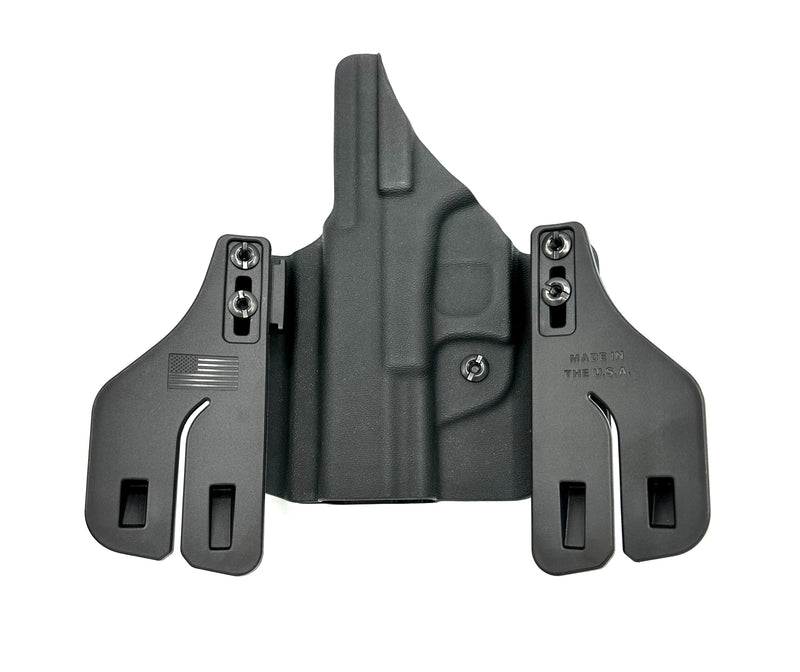 Quick Ship Smith & Wesson M&P Outside the Waistband Paddle Holster Pancake Style / Zero 28 Customs
Introducing our game-changing "Paddlecake" OWB Kydex holster: the perfect fusion of a pancake holster with the user-friendly features of a paddle holster. Are you tired of compromising between a close-to-body feel and the convenience of quick on-and-off? Look no further. Our upgraded design is here to deliver the best of both worlds.
Crafted specifically for Smith & Wesson M&P Pistols, this Kydex holster guarantees exceptional concealability while providing unmatched comfort. Its .08 Kydex construction ensures durability, while the adjustable retention feature allows you to customize the holster to fit your needs perfectly.
Safety and security are paramount with our "Paddlecake" holster. With injection-molded paddles, your firearm will remain securely in place, providing peace of mind wherever you go. Rest easy knowing that your weapon is comfortably and safely holstered at all times, thanks to our quick ship, and reliable design.
Compatible with a range of Smith & Wesson M&P pistols, including the M&P CSX, M&P Shield, M&P EZ 9mm pistol, M&P .380 EZ, as well as the Smith & Wesson MP9 & MP40, our holster caters to the diverse needs of firearm enthusiasts. Get your hands on our new and improved "Paddlecake" OWB Kydex holster today and experience the next level of convenience, comfort, and security. Upgrade your holster game now!